According to the diverse forms of teaching and to enable approval of credit for student participants and teaching assignments to teachers, different durations of lectures are possible. The duration and time of individual lectures are arranged by the organizers in Bremen, based on the proposal of the teachers. During the planning there will be a consultation with the teachers.
The summer university 2022 will be planned as online program from 25th July to 5th August and on place in Bremen from 1st to 14th September 2022. For both the parts we use a fixed scheme for teaching blocks and timing.
For online teaching, course blocks with the whole class group should last 3-4 hours maximum. During the remaining hours in a day there may only be organized councelling or small group or exercise work.
For physical teaching in Bremen, we use a schedule with fixed teaching blocks: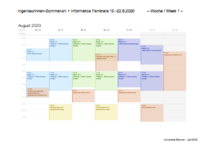 A course needs to be planned at least with 14 class hours with 45 minutes each (= 1 SWS), more hours are possible. Also, working hours of participants have to be calculated to offer possible credit points. We have collected some best practice examples for teaching processes and sequences.
A calculation is integrated in the submission form. You can also include your preferred dates there.